Achievements of the 2016-2017 School Year
Cassandra Madrigal takes advantage of Advanced Opportunities at CHS
Congratulations to junior Kayla White.
She earned 2nd place at the regional History Day competition. She goes to state at C of I on Saturday, April 15. Here's what Kayla says about the project: My project subject is Grace O'Malley, Irish woman pirate and leader. During her lifetime in the 1500s, she and her tribe protected Ireland from British rule. She was a strong, brave woman, knew exactly what she wanted, and was not afraid to go for it.
I spent all of Thanksgiving break working on the physical project. It took a lot of work, but with help from my dad's handyman expertise, and his power tools, I was able to come up with something that I never thought I could. It's been an amazing experience, and I can't wait for state!
CHS students earn 624 University Credits
On March 20, 46 Caldwell High School students visited Boise State University to take the Spanish College-Level Examination Program. ALL students passed the exam and ALL received some university credit. What a great day!
32 students received 16 credits at the university level: Spanish 101, 102, 201, and 202. This is a total of 512 credits. 14 students received 8 credits, for a total of 112 credits. Within one school day, our students received 624 credits! Thank you to Scott Nelson for taking the lead on registering students, Steve Jenkins from CWI for helping make this all possible, and Fred Betancourt for helping chaperone today.
CONGRATULATIONS Angelina Goodson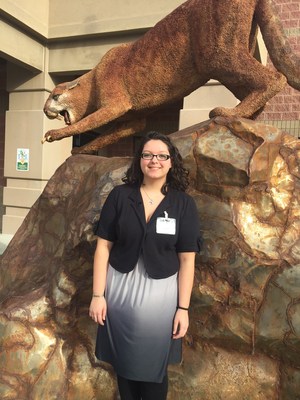 Caldwell High School's National Hispanic Scholar! Angelina was selected for recognition by the National Hispanic Recognition Program a prt of the College Board. She scored in the top 2% of Hispanic and Latino PSAT/NMSQT test takers last year. Angelina is a Senior at CHS and says she is "inspired by the fear of failure". Along with this comes a determination to continuously excel in school and improve her chances for the future. Since entering high school, each year has been more academically challenging and she has risen to the task. In addition to earning the Hispanic Scholar honor, she has been accepted into the College of Idaho and is excited for what her future holds.
CONGRATULATIONS Aly Cameron
Aly Cameron received the National Merit Scholarship commended student award. This is given for outstanding achievement on the PSAT taken as a junior. This award puts Aly in the top 5% of students who entered the National Merit Scholarship Competition.
CONGRATULATIONS CHS Engineering
CHS Engineering students partnered with NNU to develop the Cube Sat. This satellite will be launched into space by NASA. Click here to watch news report
The Robotics Team won the "Judge's Award Trophy at a Robotics Tournament at RidgeVue High School. Read about it on the CSD Website
The Freshman Caldwell Team takes first place in the regional robotics tournament. Read the article

On Friday February 24th the Vex Robotic State Championship was held at Wood River High School in Hailey Idaho. The CHS Senior team received the highly coveted Judges Excellence Award which itself qualifies the CHS Seniors to go to the World Championship in Kentucky April 19th-25th. CHS is one of only two high schools in Idaho who have earned a 2017 VEX Robotics World Championship invitation.
Congratulations to the CHS Cross Country Team
The CHS Cross Country Team competed at the State Meet in Pocatello. The Girls Team finished 6th and the Boys Team finished 7th. Hannah Webster medaled in 7th place and Juan Saavedra medaled in 15th place in the State. Coach Hunt was named SIC Girls Coach of the year!
Congratulations to the CHS Soccer Team: 3rd Place in State!
CHS Wrestling: 2nd Place in State!
Student Council
Our CHS Student Council was selected as the #1 Outstanding Student Council in the state.
Congratulations to DECA member Veitaley Partida
Veitaley Partida qualified to compete at an International DECA leadership conference that will be held in Anaheim, CA in April, 2017. He will compete in a virtual business retailing event. He placed among the top 5 students within the western region of the United States to qualify him for this event. .
Congratulations to BPA Members
The Caldwell High Business Professionals of America Club participated in a Regional Event in Nampa (December 2016) against most of Canyon County's High Schools.
Web Site Design Team- Lina Zhu and Avery Hawkins 2nd place, State Qualified
Computer Animation Team- Lorelai Stitzel and Riley Whisenhunt, 2nd place, State Qualified.
Intermediate Word Processing- Lina Zhu, 1st place, State Qualified
Java Programing- Aleea Banda- 1st place, State Qualified
Interview Skills- Lorelai Stitzel, 3rd place
Medical Office Procedures- Aleea Banda, 3rd place
Graphic Design Promotions- Leah Torres 3rd place, Ashley Smith 4th place
Congratulations to the Science club
On Monday February 27th, the CHS Science Club participated in the Micron Science Bowl at Boise State and placed in the top ten for the Idaho Western Regional Competition. Students from Caldwell High School also won the sportsmanship award for the entire competition. Congrats to CHS Science Club!
Congratulations to:
Samantha Asbury, Tabitha Elgan, Jocelyne Garrido, Isaac Herrera, and Aaliyah Juarez
these students where recently published in The Stories of Transformation 8th Annual Writing Challenge. This is a statewide poetry challenge and it is an honor to be selected and published.
Congratulations to Lita Forse & Danny Cuevas
Caldwell High Senior Lita won the girls shot put with a throw of 40 feet, 7.50 inches at the Simplot Games in side Holt Arena in Pocatello. (click to view Article in Statesman)
Danny Cuevas was selected as the boys soccer athlete of the year!
College Sports Signing Day
Lita Forse will attend Washington State University for Track and Field, Danny Cuevas will attend Northwest Nazarene University and play Soccer, Triden Mitchell will attend The College of Idaho and play Football.