Achievements of the 2019-2020 School Year
These Cougs will go on to college athletics! Congratulations!
Katrina Vallejo & Jade Martinez, Highline College (Basketball); Kylin Olsen, C of I (Soccer);
Joe Cameron, Whitworth (Football); Ali Juarez, CSI (Track); Anthony Navarro, Whatcom (Basketball); Ian Phillips, Mt. Hood (Basketball); Tyler Worwood, Eastern Oregon University (Baseball); Aaliyah Kennedy, TVCC (Basketball)
Congratulations to CHS student Kaylee Johnson!
She is a Finalist as debater of the year!!! She is the only first year debater to have that honor!

Also congratulations to Mr. Morris! He was nominated as First Year Coach of the Year.
Congratulations to these CHS seniors for earning their honors cords as members of the Psi Omega Honor Society. 💙💛
Melicah Andersen; Gail Kinder; Haileigh Anderson; Reese Kinney; Jose Avila Villasenor; Karla Llaguno; Lydia Beardsley; Jade Martinez; Belle Bower; Crystal Medina; Joe Cameron; Natalia Nelson; Xiana Campos-Garcia; Monica Pickens; Zenaida DeLaCruz; Galilea Quezada; Valancy Eickermeier; Geraldine Ruiz; Yamileth Escobedo; Katelynn Sanford; Mariela Esquivel-Rodriguez; Avery Hawkins; Madison Smith; Ying Yin Zhr
Congratulations to our very own Ben Herrera,
who placed 5th in district for State Solo & Ensemble Competition!
Caldwell High FFA member Kinley Schleicher elected to office of Reporter
Kinley will be representing CHS for the next year at all FFA district events. If you see her she deserves a congratulations as this is an honorable position and the first time in 50 years Caldwell has been represented at the district officer level!
Congratulations to our CHS girls Basketball Team -- District Champions and 3rd place in State!!
The Cougars finished with top honors! All-Conference Player of the Year Jade Martinez. Coach of the Year Ashley Green. 2nd Team Katrina Vallejo and Honorable Mentions Xiana Campos, Belle Bower and Courtney Williams. Our CHS community also won the Sportsmanship award at the State Tournament this year!
Congratulations to our CHS wrestling Team -- 4th place in District!!
State Tournament Results:

Hunter Bidelman - State Champion;

Alejandro Avila- 4th;

Aidan Go- 4th;
Christian Sotelo- 6th;
August Pena- 6th;
Armando Juarez- 6th;
Miguel Perez - 3rd
:
Congratulations to our CHS cheer team!
CHS hosted the district cheer tournament on February 29. The Cougar cheer team did well and will go onto the state tournament and present their sideline routine. Good Luck!
A HUUUGE shout out to our CHS Student Council!
Stu Co earned the Outstanding Student Council award this year and Andi Arnold was awarded Student Council Advisor of the Year! Congratulations!
Young Women In Leadership
The 3rd Annual Young Women In Leadership Conference was held February 15 at Northwest Nazarene University. The full-day conference was planned by six Caldwell High School students: Mercy Alaniz (12), Cristina Benites (12), Yamileth Escobedo (12), Mariela Esquivel-Rodriguez (12), Joselyn Gutierrez (10), and Deidra Guzman (10). Thirty-five students from CHS attended. They heard from two keynote speakers, and attended leadership sessions and skill development workshops (dress appearance, mentoring, networking, and public speaking). Attendees will have the option to earn one college credit for their participation.
CHS Scholastic Awards winners
Recognition for excellent writing
Ellie Webster, Dana Strum, Rhiannon Martinson, Jordan Crookham
Congratulations to Rylund Sherman for earning his Eagle Scout Award!
Rylund of Boy Scout Troop #502 did his Eagle Scout Project at the Caldwell City Police Department Training and Shooting range this year. Working with the Corporal Richard Pelkey to come up with a design for a 10 foot elevated platform with stairs to be a part of the Caldwell City Police Departments training obstacle course. A big shout out to all the Police Officers who were able to stop by to lend a hand over several Saturdays earlier this year.
CHS Business Professionals of America and DECA
On January 11th, BPA students participated in the Business Professionals of America Regional event. Here are the results:
Gabriel Carreto- 2nd place in Personal Financial Management
Eliana Carreto- 3rd place in Banking and Finance
Emily Vega- 3rd place in Graphic Design Promotion.
On February 24, DECA students participated in their state event.
Oscar Vega Vega & Nicholas Esparza placed 4th in the Hospitality and Tourism team event. Our DECA chapter was honored for achieving "thrive"level. This was a result of participating in service and leadership projects throughout the year.
Congratulations to CHS robotics team
Congratulations to our CHS Robotics students Lydia Beardsley, Joselyn Gutierrez, Mason Nelson, and Joseph Mondragon. They competed at ISU in Pocatello against the top 30 robot teams from around the state. They took first place in what is called the Skills division with a top combined score of 54 (a full 10 points ahead of the second place competitors). But it gets better. They survived through some tough qualification rounds and through the final rounds until the very
last match ending up the Tournament Champions (together with their alliance partners from Wood River)!! They won the final match with a score of 26 to 15 against a Nampa/Burley alliance team. And they earned a double-invite to compete at the VEX World Championship. It was well deserved considering the enormous amount of time and effort they're put in this season.
This picture shows
Lydia Beardsley, Joselyn Gutierrez, Mason Nelson, and Joseph Mondragon after winning their robotics tournament at Ridgevue HS.
Congratulations to CHS Speech and Debate team
On January 24th and 25th, the CHS Speech and Debate team went to Mountain View High School to participate in the "Running with the Bulls" invitational tournament. They participated in speech and debate event.
Eliza Farrell and Kaylee Johnson both were in the Championship Round of Dramatic Interpretations; Eliza Finished 4th and Kaylee took 1st place! She was also the #1 overall ranked speaker for the entire tournament.Great job by the entire team.
Congratulations to the CHS girls wrestling team -- State Team Runner up!
Caldwell Theater Department
The Caldwell Theater Department participated in the IHSAA theater competition in the fall. Caldwell sent 19 students and 11 competitive entries to the district drama competition at Middleton HS this November. Participating in this event was designed to give students experience for competing next year. One of the entries, performed by juniors Krystel Good and Emily LaGrone, placed in the top third of groups in their category. This qualified the students to participate at the state tournament in Idaho Falls at Thunder-Ridge HS earlier this December. These are the first know students from CHS to attend such a competition. The pair finished the state competition with "Excellent" and "Superior" marks with a strong placement amongst their peers from across the state. Way to go ladies!
CHS robotics team
In November, the CHS robotics team won an intensely competitive, all-day tournament against 35 teams from other Idaho (and Washington) schools. The winning robot (the tallest robot in the photo) was built and operated by 4 students - Sr. Lydia Beardsley, Soph. Joselyn Gutierrez, Soph. Mason Nelson, and Soph. Joseph Mondragon. They formed an alliance team with a Kuna H.S. robotics team during the final elimination rounds. By game design, two robot teams-- both CHS and Kuna co-won the tournament. These guys also took first place in the same-day robotics skills competition which currently ranks them #2 in Idaho (Wood River is #1). To top that, CHS would be ranked in the top ten if we were competing in California right now. Our winning team brought home three trophies- Tournament Champion, Robot Skills Champion, and Design Award (trophies pictured).
Congratulations to the CHS soccer team -- State champs!
Students are entered into the National Merit Scholarship Competition based on their PSAT scores in their junior year. Avery is in the top 1% of students in Idaho. She now continues in the competition to advance to National Merit Finalist and the chance to compete for a Scholarship. In September, the National Merit Scholarship Corporation (NMSC) announced the names of approximately 16,000 Semifinalists in the 65th annual National Merit Scholarship Program. Caldwell High School's Avery Hawkins was among Idaho's semifinalists.
CHS Engineering
Mr. Zattiero and some our engineering students have partnered with NNU on our 2nd CubeSat project.
Thanks to the Caldwell Foundation for Educational Opportunities (CFEO) for their generous donation to this project!! Check out the video below
20 CHS students participated in the 2019 Caldwell Youth Forum. The event was held on the C of I campus and is a partnership between local schools, the City of Caldwell, C of I and other community agencies. Students build their leadership skills and develop a plan to make a positive impact on their schools. 72 students from Caldwell, Ridgevue, Vallivue, Canyon Springs and Elevate High Schools participated.
Achievements of the 2018-2019 School Year
Zack Ramos wins state Discus with a throw of 167 feet 8 inches! Congratulations Zack!
CHS honored our graduates with scholarships. Many students received the
CFEO scholarships and other community scholarships.
Congratulations to Joclynn Howell and Madison Smith
The Social Studies department would like to congratulate Joclynn Howell and Madison Smith who will compete in the National History Day competition in Washington D.C. Both of them placed second in their categories and have been awarded scholarships from the state competition and will have the opportunity to win more scholarships at nationals.
Congratulations to Caldwell High School DECA
The DECA team attended their state career development conference on February 25-26. In addition to attending workshops, students presented innovation & marketing plans and participated in a variety of role play events. Alex Hensen and Karen Solis placed 5th and 6th with their innovation plan. Great job! Anyone interested in DECA should plan on attending our meeting on March 14. We will be voting for officers and so it would be a great time to come and learn about DECA.
Jaden Sherman Designs new Weld-Tester
The new Weld-tester at CHS is a result of a great need for our Caldwell High School students. The original, very heavy weld tester, came from ISU in Pocatello. In order for the Weld tester to be duplicated, CAD (Computer Automated Drafting) plans needed to be designed. Jayden Sherman, a talented, dedicated senior, led this project and with copious hours devoted, he was able to measure, draw and develop this highly detailed blueprint.
The finalized blueprints for the Weld-tester were sent out to all of the welding programs in the State of Idaho.
Having a Weld tester available to CHS Welding students provides a plethora of welding certification opportunities.
Great Job Jade, and Thank You!
Congratulations to these Drafting Students for passing the CSWA (Certified Solidworks Associate) certification exam
This is a very challenging industry certification exam (3-hour hands-on test). These students are all but guaranteed to get job interviews if they wanted to start working in industry now (at $15-20/hr starting out) with local employers. Please congratulate them on this accomplishment.
Kelsey Ferro
Jayden Sherman
Tyler Brumfield
Luis Estrada-Sotelo
James (Max) Born
One more notable item..... Jayden Sherman scored an almost unheard of
perfect 100% on the exam!
Sports Signing Day
Congratulations to 3 CHS student athletes. Zac Ramos, Chase Burfeind, Javier Rodriguez sign letters of intent to play athletics in college
CHS TRIO
The Caldwell Foundation for Educational Opportunity recently funded a grant request for $750 each for three Trio students to travel aboard to study. Thanks CFEO for your generous donation to CHS students!
CHS Dance
What a great way to start our season. 💙💛2nd place small dance and 3rd place military!
Business Professionals of America
Congratulations to Caldwell High School Business Professionals of America members Kylea Paullus, left, who placed third in Legal Office Procedures and Lorelai Stitzel who placed fourth in Advanced Interview Skills at their regional competition in Marsing.
CHS Auto Shop
Our CHS Automotive program partnered with local community member Mr. Soderman to restore two tractors. The 1953 Ford tractor and 1951 Ferguson tractor were a great opportunity for students to learn about machine work, rebuilding the equipment, restoring paint work, problem solving, and more. The project was spearheaded by the auto instructor, Mr. Ireland who was assisted by Jim Mc Creary and Nate Holm. Our auto students had a valuable experience restoring these tractors.
At the Advanc-Ed accreditation training in June, Dale Kleinert presented Ms. Wilson with a banner and certificate recognizing CHS for 100 years of continuous accreditation. Only five high schools in the state have achieved this honor. CHS is accredited by the Northwest Accreditation Commission, a division of Advanced-Ed. This recognition is a commendation for Caldwell High School's long term commitment to quality and continuous school improvement.
Achievements of the 2017-2018 School Year
Seniors Honors Reception
CHS recognizes our Honor Graduates and Top 10 at the Senior Honors Reception. The Top 10 received their stoles and all students with a 3.5 cumulative GPA earned honor cords to wear at graduation. CFEO Scholarships were given.
Welding
Welding students competed in the Rocky Mountain Shootout Welding Competition at ISU in April. Chris Truksa put in many practice hours above and beyond class time, and it paid off. He won three new welding helmets, tool bag full of tools, gloves jackets, and more. Chris took 4th place in the SMAW/GMAW, (stick and wire feed welding), 3rd in the GTAW (Tig welding), and 2nd in the written test. Mr. Cooper competed in the instructor's oxy-fuel cutting contest, and took first place again, and came home with a nice Canyon Cooler, and a $100.00 gift card. All in all, it was a great experience.
The CHS welding fabrication team also traveled to Twin Falls for CSI's Welding Wars Welding competition.
The fab team consisted of Mason Harrison, Cecilia Gonzalez, and Jayden Schimmels. They were given a list of materials and the topic of a welding table a while back, and worked on designing it from that list of materials. At the contest, they worked very hard from
9:30-2:30
building it, and all their work paid off. Caldwell fab team took first place this year. Last year Mason headed up the team and they took second place.
They each won a new digital welding helmet, $200.00 Norco gift card, $350.00 Gem State Welding gift card, 6" Makita grinder ($140.00), $500.00 scholarship to CSI's welding program, and a nice trophy.
Students sign letters of intent to play sports at local colleges
CHS soccer players signed letters of intent to play soccer at TVCC. Danny Belman, Erik Arizmendi,
Leo Luna-Cervantes. Congratulations!
Please help us congratulate Sydney Smith (Soccer-Boise State), Max Standley (Cross Country-The College of Idaho), and Mikayla Darrington (Cross Country-The College of Idaho).

Idaho History Day
Congratulations to our CHS students who qualified for State National History Day! Kelsey Ferro earned 1st in an individual documentary, her topic is Cecil Andrus; Elise Doyle earned 2nd in an individual exhibit about the Salem Witch Trials; Eliza Roley earned 2nd in a historical essay about the Treaty of Versailles. The theme of National History Day this year is Conflict and Compromise. Thanks Mrs. Lile for helping students through the process. On to State April 14th.
Update: Kelsey Ferro took 2nd place in individual documentary at the state competition and earned a spot for nationals in Maryland this June. Congratulations!

CHS DECA
The CHS Deca team competed in a regional event in Couer d'Alene, a state event in Nampa, and 3 of our members (Grant Winegar, John Henrie, & Christian Gamino) will be competing and attending leadership workshops in Atlana in April 2018.
CHS Science Bowl
The CHS science bowl team got to compete in the championship bracket but lost in the quarter finals.
CHS Basketball
All-Conference honorees. Jalen Callender 2nd Team. Jade Martinez Honorable Mention.
Katrina Vallejo 1st Team.
CHS Student Council is the best!
Our CHS Student Council wins the Outstanding Student Council award at their state conferences AGAIN!! You are awesome!!
CHS Cheerleading awards
Congratulations CHS Cheer!! 1st in Show, 2nd in Stunt, 3rd in Sideline, and...........3rd Place in State overall!
CHS Wrestling Awards
CHS Junior, Christian Hudson, shows off his 1st place medal from the Dinko Petrov tournament in Bulgaria. Christian trained with the Delchev Trained Academy for the event, a premier wrestling training program.
District Champs!
Congratulations to Christian (Champ), Travis (Runner Up), and Zack Ramos (5th) for their finishes at Rollie Lane. The team finished 10th out of 59. Good Job Men.
Congratulations to coach Kloetzer -- 200 wins!
CHS engineering students participate in the amateur radio contest
In November, Caldwell High School students participated in an amateur radio contest called the ARRL School Club Roundup. Approximately 15 students from the CHS Engineering and Robotics classes spent their afternoons and evenings making radio contact with other stations from across the continent.
Contest Objective: To exchange QSO information (station call sign, location, and signal report) with other school and club stations that are part of an elementary, middle, high school or college. A points system is used to score each contact and the student radio station was allowed to operate for a cumulative of 24 hours over a five day period. It was also encouraged to contact non-school clubs and individuals, although they didn't score as highly. Students earned
almost 30k points in the competition this week while "working" several hundred stations from 42 different US states including Hawaii, Canada, Mexico, and the Dominican Republic. CHS junior Kelsey Ferro said at the conclusion of the event, "I really enjoyed the opportunity to use the knowledge of radios I learned in
Mr. Z's class. This was one of the coolest and nerdiest things I can gladly say I've done. From stringing the antenna from the roof to using the radio and talking to new people, these kind of opportunities are why I love engineering".
"I really enjoyed the opportunity to use the knowledge of radios I learned in Mr. Z's class. This was one of the coolest and nerdiest things I can gladly say I've done. From stringing the antenna from the roof to using the radio and talking to new people, these kind of opportunities are why I love engineering". Kelsey Ferro (CHS Junior)
Achievements of the 2016-2017 School Year
Scholarships
CHS celebrated College Friday on May 12, 2017
At our CFEO Scholarship Assembly we awarded over $30,000 in scholarships and students signed a banner indicating where they will go on with their education and careers after high school!!
One of the highlights of the scholarship assembly was when Yesenia Rodriguez was awarded the Adam Gabrielson Scholarship and the Todd Rutledge Exceptional Courage Scholarship. She received a standing ovation.
Thank-you to the Caldwell Board of Realtors for recognizing these amazing CHS students with scholarships!! Lupita Garcia, Noah Rohrdanz, Sydney Soppe, and Camron Manker, and Maddie Dowen.
Congratulations to our Technology students
Many of our students enrolled in Business Computer Applications earned the Microsoft Office Specialist certification in Office Word 2013 and a handful of students earned the Adobe Certified Associate certification in Adobe Illustrator.
Certification: Office Word 2013
Certification: Office Word 2013
Certification: Office Word 2013
Luken Stitzel
Arisbeth Cruz
Samuel Gragg
Darian Tanner-Garner
Alexandra Matos-Kelly
Cristian Lopez
Wendy Guarjado
Kenny Newman
Alexander Carnes
Joclynn Howell
Hector Ayvar
Haili Babbs
Ying yin Zhu
Victor Arellano
Jamine Estala
Ian Crump
Reese Kinney
Gregory Giardina
Tyler Davis
Ilse Mora
Sophia Jensen
Kimberly Martinez
Kaetlynn Sanford
Elena Lagunas
Ethan Perkins
Christine McCreary
Katerina Howe
Logan Serrano
Damien Perez
Itzi Magallan
Annabelle Garcia
Melicah Anderson
Yobanna Perez-Arreola
Joe Cameron
Yesenia Barajas-Martinez
Elisabeth Rabideau
Belle Bower
Jaden Knittle
Madison Spencer
Zenaida De La Cruz
Marcus Gomez
Isaac Velasquez
Jenessa Farnsworth
Jade Martinez
Omar Salazar
Ronin Ficek
Naida Camacho
Certification: Graphic Design & Illustration using Adobe Illustrator
Avery Hawkins
Jaden Castillo
Fadela Hoashi
Rylee Erickson
Nikolas Scott
Mariela Esquivel-Rodriguez
Christian Sotelo Arias
Madison Miller-Puga
Ruby VanSell
Maria Pinzon
Austin Watts
Cynthia Rodriguez
Nicholas Gaudin
Nathaniel Barber
Lucio Vazquez
Shelby Hale
Gabriel Figueroa
Gabriel Carreto
Jesus Mendoza
Crystal Gracia
Carmen Ramos
Garrison Michon
Emely Tello
Daniel Aguirre
Leah Torres
Congratulations Faith Alaniz
Faith Alaniz, a student in the TRIO Upward Bound program at Caldwell High School, was selected to be a 2017 HERlead Fellow. The application was open to all young women who are in the 10th or 11th grade at a high school in the United States, and Faith was 1 of only 30 to be selected.
Faith will have the opportunity to attend, all expenses paid, the upcoming HERlead Leadership Forum. Here is a desc
ription:

A four-day Forum hosted in ANN's hometown of New York City in June 2017 where Fellows are able to connect with a powerful network of ANN executives and global women leaders from business, politics, entertainment and the media to cultivate their own leadership abilities. During the Forum, Fellows are introduced to unique leadership and communications training's, presentations on real-world solutions for social change, mentor-ship opportunities, and the chance to learn about their personal style to help them put their best selves forward every day.

In Faith's application to be a HERlead Fellow, she was asked to propose a project that would benefit her community. Faith wrote about expanding the book club idea into a one-day leadership conference for young women in Caldwell. She will be eligible to write for a grant of up to $2,000 to help fund her project.

Congratulations to our National Honor Society inductees and graduates.
The ceremony was held April 24, 2017 at CHS. These students exemplify the standards of character, leadership, service, and scholarship.
Congratulations to Poetry Challenge Winners!
Samantha Asbury, Tabitha Elgan, Jocelyne Garrido, Isaac Herrera, and Aaliyah Juarez participated in the 8th annual statewide poetry challenge. Their poems were selected from over 2000 entries and were published in "Stories of Transformation 8th Annual Writing Challenge." What an honor to be selected and published!
Samantha Asbury was awarded the Gender Revolution Award for having more than 1 poem published. "This is us" (p. 28) and "She Waits" (p.29)
Aaliyah Juarez was also awarded the Gender Revolution Award for having more than 1 poem published. "Back Off" (p. 65) and "Be Yourself, Please" (p. 66)
Jocelyne Garrido's poem titled "Promises" is published on p. 54
Isaac Herrera's poem is published on p. 62
Tabitha Elgan's poem titled "Love" is published on p.50
http://ourgenderrevolution.org/wp-content/uploads/2017/03/2017_SOT_HS-Poetry-Book.pdf
Congratulations to CHS Welding students
Several welding students attended the College of Southern Idaho's "Welding Wars" competition in April. Three students competed in the individual contest, and Ilijah Velasquez took 4th. Nate Farris tried the Virtual Welding competition and placed 1st giving him a $25.00 gift card.. The welding fabrication team which only had two days to come up with a design and make a test run on it, took 2nd place. Mason Harrison, Destiny Blanke, and Javier Dominguez, worked their tails off for nearly four hours to complete the project. They each came home with a new hand grinder, welding gloves, laser engraved trophy, a $150.00 gift card to Norco Welding Supply and a $300.00 scholarship to CSI. Each contestant's ID number was put in a drawing, and Mason won a $325.00 welding helmet, Destiny won a $165.00 welding helmet, Javier won a nice tool box, and Alejandro Dominguez won a $150.00 Makita hand grinder. Mr Cooper competed in the instructor's oxy-fuel cutting contest, and gave up first place by less than a second, but came home with some nice welding posters and a Norco gift card (never too many tools).
Cassandra Madrigal takes advantage of Advanced Opportunities at CHS
Congratulations to junior Kayla White.
She earned 2nd place at the regional History Day competition. She goes to state at C of I on Saturday, April 15. Here's what Kayla says about the project: My project subject is Grace O'Malley, Irish woman pirate and leader. During her lifetime in the 1500s, she and her tribe protected Ireland from British rule. She was a strong, brave woman, knew exactly what she wanted, and was not afraid to go for it.
I spent all of Thanksgiving break working on the physical project. It took a lot of work, but with help from my dad's handyman expertise, and his power tools, I was able to come up with something that I never thought I could. It's been an amazing experience, and I can't wait for state!
CHS students earn 624 University Credits
On March 20, 46 Caldwell High School students visited Boise State University to take the Spanish College-Level Examination Program. ALL students passed the exam and ALL received some university credit. What a great day!
32 students received 16 credits at the university level: Spanish 101, 102, 201, and 202. This is a total of 512 credits. 14 students received 8 credits, for a total of 112 credits. Within one school day, our students received 624 credits! Thank you to Scott Nelson for taking the lead on registering students, Steve Jenkins from CWI for helping make this all possible, and Fred Betancourt for helping chaperone today.
CONGRATULATIONS Angelina Goodson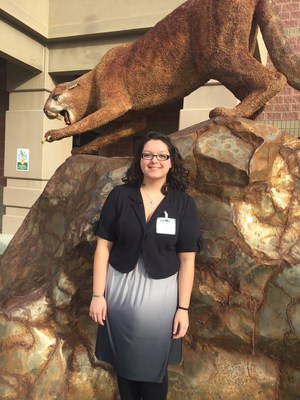 Caldwell High School's National Hispanic Scholar! Angelina was selected for recognition by the National Hispanic Recognition Program a prt of the College Board. She scored in the top 2% of Hispanic and Latino PSAT/NMSQT test takers last year. Angelina is a Senior at CHS and says she is "inspired by the fear of failure". Along with this comes a determination to continuously excel in school and improve her chances for the future. Since entering high school, each year has been more academically challenging and she has risen to the task. In addition to earning the Hispanic Scholar honor, she has been accepted into the College of Idaho and is excited for what her future holds.
CONGRATULATIONS Aly Cameron
Aly Cameron received the National Merit Scholarship commended student award. This is given for outstanding achievement on the PSAT taken as a junior. This award puts Aly in the top 5% of students who entered the National Merit Scholarship Competition.
CONGRATULATIONS CHS Engineering
CHS Engineering students partnered with NNU to develop the Cube Sat. This satellite will be launched into space by NASA. Click here to watch news report
The Robotics Team won the "Judge's Award Trophy at a Robotics Tournament at RidgeVue High School. Read about it on the CSD Website
The Freshman Caldwell Team takes first place in the regional robotics tournament. Read the article

On Friday February 24th the Vex Robotic State Championship was held at Wood River High School in Hailey Idaho. The CHS Senior team received the highly coveted Judges Excellence Award which itself qualifies the CHS Seniors to go to the World Championship in Kentucky April 19th-25th. CHS is one of only two high schools in Idaho who earned a 2017 VEX Robotics World Championship invitation. The picture below was taken at the world championship
Here is a picture of the CHS robotics team presenting their accomplishments to the school board
Congratulations to the CHS Cross Country Team
The CHS Cross Country Team competed at the State Meet in Pocatello. The Girls Team finished 6th and the Boys Team finished 7th. Hannah Webster medaled in 7th place and Juan Saavedra medaled in 15th place in the State. Coach Hunt was named SIC Girls Coach of the year!
Congratulations to the CHS Soccer Team: 3rd Place in State!
Danny Cuevas was selected as the boys soccer athlete of the year!
CHS Wrestling: 2nd Place in State!
Student Council
Our CHS Student Council was selected as the #1 Outstanding Student Council in the state.
Congratulations to DECA member Veitaley Partida
Veitaley Partida qualified to compete at an International DECA leadership conference held in Anaheim, CA in April, 2017. He competed in a virtual business retailing event. He placed among the top 5 students within the western region of the United States to qualify him for this event and made it to the semi-final round in Anaheim. Next year's International DECA leadership conference will be held in Atlanta, Georgia.
Congratulations to BPA Members
The Caldwell High Business Professionals of America Club participated in a Regional Event in Nampa (December 2016) against most of Canyon County's High Schools.
Web Site Design Team- Lina Zhu and Avery Hawkins 2nd place, State Qualified
Computer Animation Team- Lorelai Stitzel and Riley Whisenhunt, 2nd place, State Qualified.
Intermediate Word Processing- Lina Zhu, 1st place, State Qualified
Java Programing- Aleea Banda- 1st place, State Qualified
Interview Skills- Lorelai Stitzel, 3rd place
Medical Office Procedures- Aleea Banda, 3rd place
Graphic Design Promotions- Leah Torres 3rd place, Ashley Smith 4th place
Congratulations to the Science club
On Monday February 27th, the CHS Science Club participated in the Micron Science Bowl at Boise State and placed in the top ten for the Idaho Western Regional Competition. Students from Caldwell High School also won the sportsmanship award for the entire competition. Congrats to CHS Science Club!
Congratulations to our CHS Track Team

Caldwell High Senior Lita Forse won the girls shot put with a throw of 40 feet, 7.50 inches at the Simplot Games in side Holt Arena in Pocatello. (click to view Article in Statesman).
Lita Forse also set the school record in the discus this year in the Knight Invite at Bishop Kelly -- she put up a mark of 135 feet, 8 inches in the discuss throw to break her coach, Amber Campos' school record.
We are not done yet -- Lita took 1st place in the state track meet in Shot Put, and 2nd place in the state track meet in the discuss throw.
Other State Track Meet Results: Ramos -- 6th Discus; Rohrdanz -- 4th High Jump; Nate Griswold -- 1st Triple Jump, 3rd in 110m hurdles, 2nd in long jump; Juan Savedra -- 16th in 1600m; Alyssa Wheeler -- 3rd in shot put.
College Sports Signing Day
Lita Forse will attend Washington State University for Track and Field, Danny Cuevas will attend Northwest Nazarene University and play Soccer, Triden Mitchell will attend The College of Idaho and play Football, and Jesus Lechuga will attend TVCC and play soccer, Molly Davis will attend Westminister College and run Track, and Emilio Gonzalez will be attending Walla Walla Comunity College.